Visconti Brown Leather Briefcase 01775 Messenger Bag A4
Also available to buy through our AMAZON store, please click on the Amazon link below:

VISCONTI BROWN LEATHER BRIEFCASE 01775 WITH TWO QUICK RELEASE BUCKLES & DETACHABLE SHOULDER STRAP.

SPECIAL FEATURES: QUICK RELEASE ANTIQUE BRASS BUCKLES, AND FITTINGS.
SIZE:
WIDTH 40CM
HEIGHT 30CM
DEPTH 13CM
ALSO DETACHABLE SHOULDER STRAP 131CM.
This new Visconti leather briefcase is available Dark Tan Brown and Black vcolour is one of the very popular briefcases of their range of briefcases.

It has a strong Visconti durable handle riveted through on a lid stiffener to provide durability and strength.

It has 1 fine Visconti antique brass quick release catch on the front for easy access.

Once you open the lid, you have 1 main zipped pocket compartment with Visconti branded lining for added strength and durability.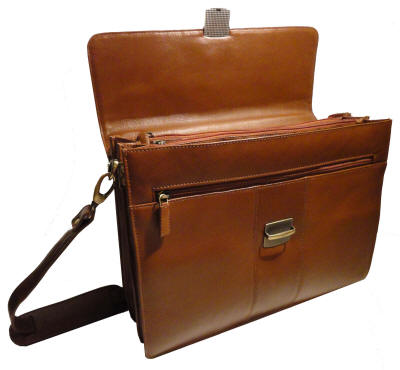 Once inside the briefcase you have 3 zipper compartments either side of the interior panel faces which again are all lined with the Visconti branded lining for easy access.
Also a mobile phone holder, 2 pen holders, card holders.

On the Visconti bag there is also a rear zip compartment also for easy access if you wish to put papers in without opening the case.
The bag has contrast stitching in subtle yellow, the leather is very high quality and has all the characteristics that leather has, minor wrinkles, scratches or scars that make up the character of this durable bag.

This has a smooth and slightly grained finished for the more discerning gent.
This bag from day one has a very natural appeal that goes with everyday clothing, has a shoulder strap that you can put over your shoulder and allow you to get on with the day ahead of you.

Whether it is for you or for a gift this really is a very practical briefcase.
Red Rae Saddlery is a family run business Est since 1955 and we feel very proud to sell this briefcase.

Free U.K Delivery
Free Visconti Wallet worth £21.95
Free Returns
Price £132.99
(Price Includes VAT & P + P)